Specifications
The packaged modular compressor unit is a process unit intended for compression of associated petroleum gas, which is designed to be installed in an individual enclosure. The individual enclosure is a transportable containerized module with integrated utility systems (lighting, heating, ventilation and fire-extinguishing systems).
Power range: 300 kW to 16 MW;

Single skid-mounted design including an air cooling unit;

Compression of low pressure gases;

Drive: Integrated forced ventilated electric motor with variable-frequency drive (VFD)
Use of the motor-driven compressor helps solving the following issues, which are otherwise associated with operation of conventional solutions:
It eliminates the need for an oil system and for gas cleaning of oil;

It eliminates the need for regular shutdowns of the compressor station for maintenance;

It narrows the scope of construction and installation operations, since the unit is supplied ready for operation and all it needs is to be installed on a foundation and to be connected to utility systems.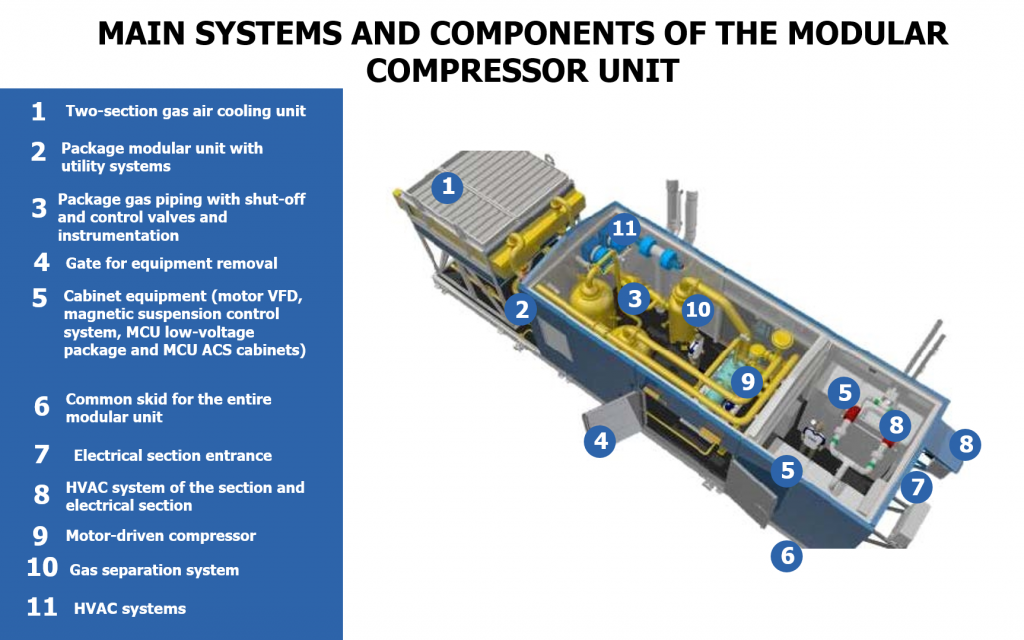 Advantages of the packaged modular compressor units supplied by our Company:
Ready-to-operate;

Minimum preparation of the installation site;

No step-up unit;

No lubrication system;

No gas seal system;

Optimal power consumption in each mode thanks to VFD;

No gas emissions and leaks;

Prompt cold startup;

Maximum possible intervals between maintenance and repair;

Customer Service Center