"Irtysh" gas turbine power plants are available in the following versions:
Containerized module version GTEA;

GTEA to be installed in capital construction facilities or easy-to-assemble hangar shelters;

GTEA mounted on a skid.
Specifications
The gas turbine power plant (GTEA) is intended for generation of industrial-frequency (50Hz or 60 Hz) electric power (for export) with voltage of 6.3 kV or 10.5 kV.
GTEA can be operated both in isolated 6 kV or 10 kV networks and in parallel with a power system.
"Irtysh" GTEA are available in 4 to 30 MW power rating versions, which can be used at different facilities.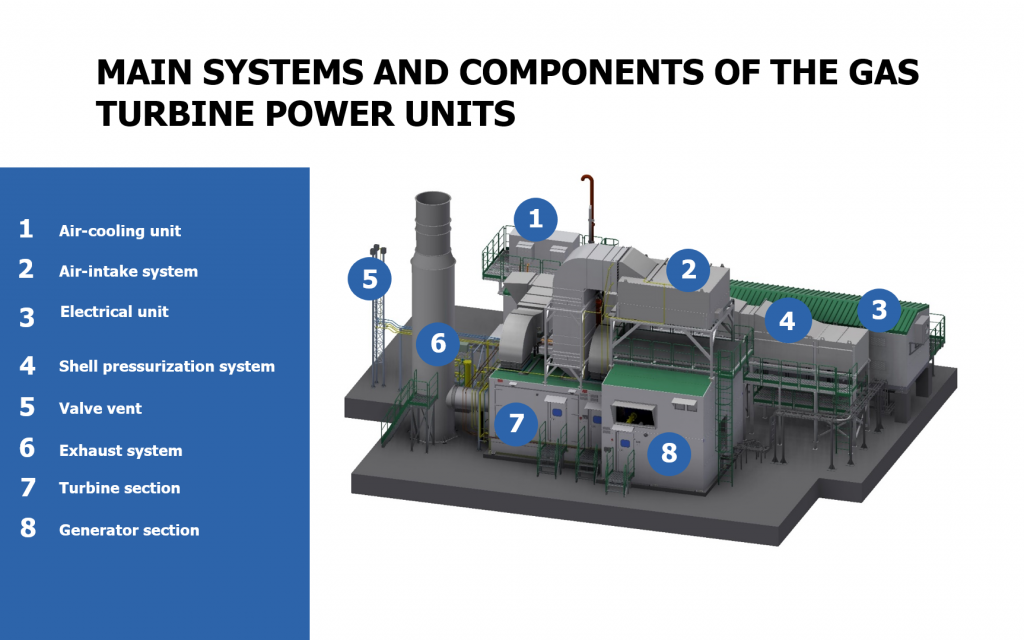 Advantages of the "Irtysh" gas turbine power plants supplied by our Company:
The maximum readiness for operation and package delivery minimize the scope of installation;
The equipment is highly reliable – the equipment and systems are tested by the manufacturer before shipment to the Customer;
Long mean life – time to the first overhaul is 63 thousand hours of operation; the design provides for no more than 4 overhauls within the entire service life;
Operation in any conditions – the equipment runs steadily regardless of the ambient temperature;
An automated control system provides for remote and automated control of all GTEA processes, including startup and shutdown of the engine;
Mean service life of the equipment is up to 30 years;
Customer Service Center;
Certification in accordance with the requirements effective in the Russian Federation, and full compliance with API standards.